Local: 1-246-272-2000 | UK: 0-800-086-8662 | US/Canada: 1-855-346-8662
Reservations
Dining
Island-Fresh Fare
Choose from an array of bar and dining options including 13°/59° Restaurant and Bar Lounge, the Quarterdeck Bar & Pizzeria or dine privately in-home; beachfront dining is available at the Gazebo Bar & Grill at our sister UNNA resort Saint Peter's Bay Luxury Resort & Residences.
Restaurants
- Poolside bar & dining at The Quarterdeck Bar & Pizzeria on the Pool Island
- 13/59 Fine Dining Restaurant including Private Dining Area with your personal Restaurant Concierge
- Beachfront bar & dining at The Beach Club (scheduled to open December 2016)
- Shipshack bar serving drinks and snacks on the beach
- Poolside Bar & Dining at The Gazebo Bar & Grill at sister UNNA resort, Saint Peter's Bay
Additional Dining Options
- Private In-Home Dining
- Private Beach Barbecue
- Picnic Basket preparations
- Room Service
The Gazebo Bar & Grill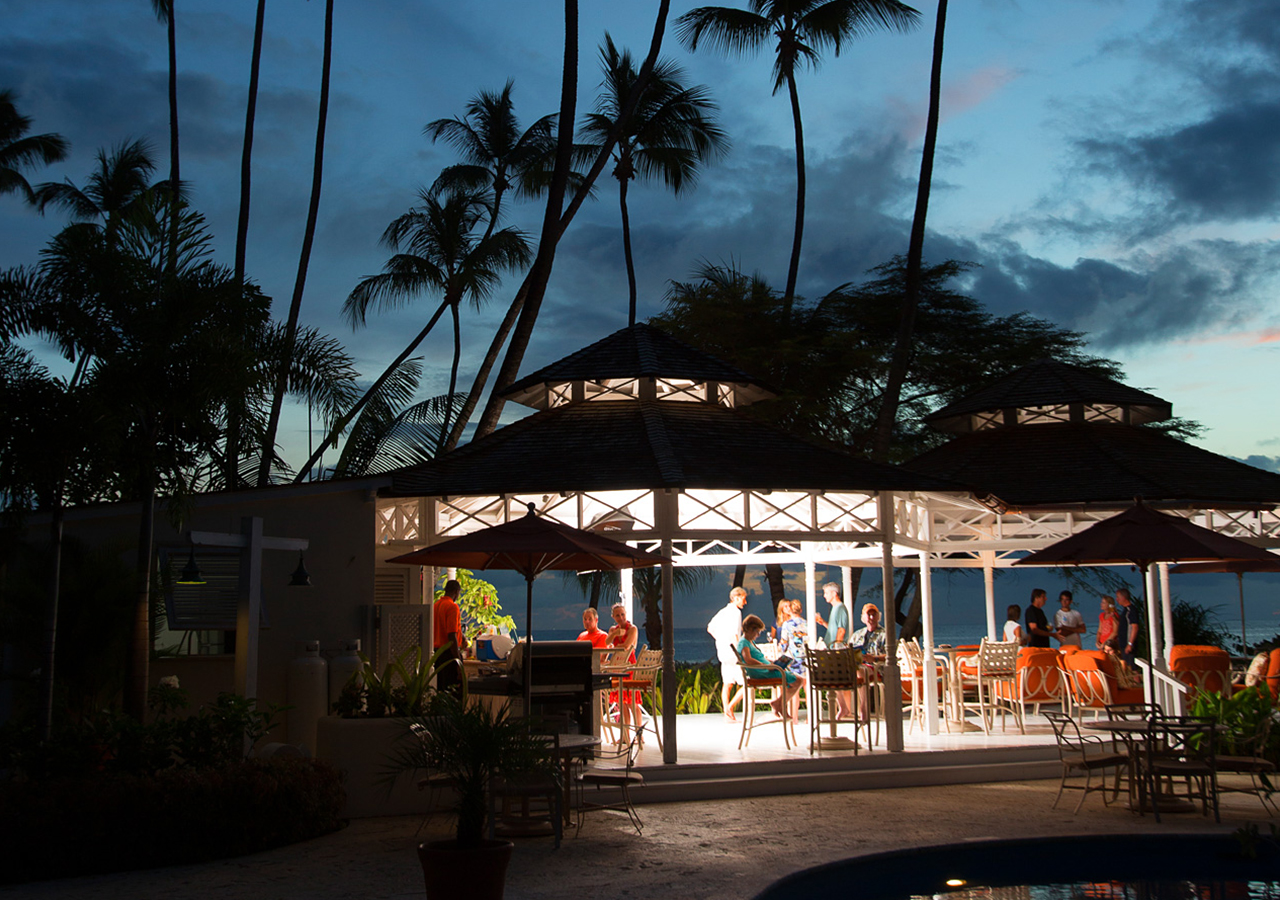 Casual and chic, The Gazebo Bar & Grill at Saint Peter's Bay, offers a grand oceanfront view with simple and smart cuisine. It's open air deck is also the perfect place on the island to watch the setting sun while sipping a handcrafted cocktail.
Hours of Operation | Open 7 days a week
Breakfast: 7:30am-10am
Lunch: 11:30am-4:30pm
Dinner: 6:30pm-9pm
Dress Code: Resort Casual, Beach Coverups
Reservations: No reservations required.
Cuisine: Caribbean, Mediterranean Influence
Signature Dish: Blackened Mahi Mahi sandwich, spicy tartar sauce and sweet potato fries.
Menus: Breakfast | Lunch & Dinner | Dessert & Wine | Kids | Ice Cream
Private Dining
Savor An Intimate Experience
What could be more intimate than chef-prepared private dinner for two or a meal shared amongst family and friends.
Learn more